KOSTAL PIKO 3.0/3.6/4.2/5.5/8.3/10.1
You only have to do this, if the Kostal PIKO is not connected to a Suntrol eManager. In the portal the serial number of the device must be entered for the registration. In addition, the data upload has to be set up in the inverter.
Once you have created a new system and all data fields have been correctly filled out, the newly created system appears on the "My systems" page.
Select item "Register Kostal inverter" in menu "Settings".
Enter the serial number for the inverter in the "Serial number" field and confirm with "Save".
Tip: The serial number can be found on the type plate, directly on the inverter's housing. If you are using several KOSTAL inverters within a single system, it is sufficient to enter an arbitrary serial number from the composite system for purposes of identification. The other serial numbers from the composite system will then be detected automatically.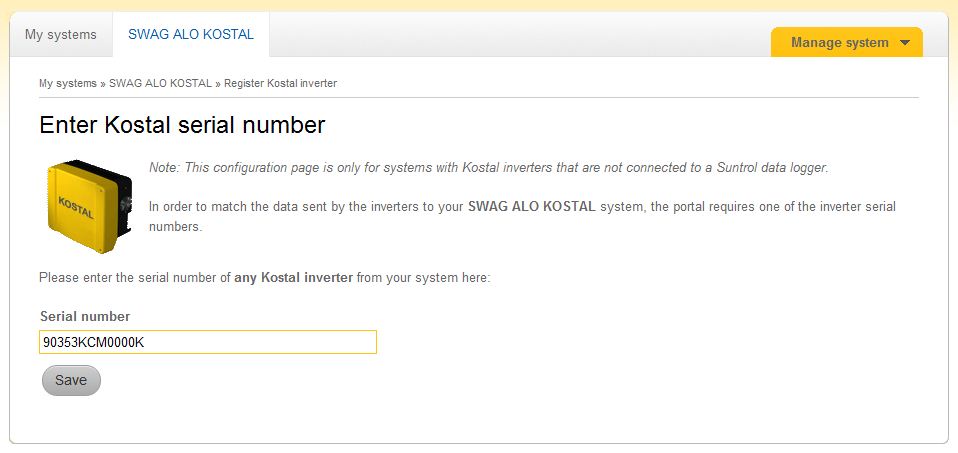 The following scenario assumes that the inverters have been installed and pre-configured by a skilled engineer and have been connected to a commercially available SOHO Internet router with DHCP functionality.
Please contact your network administrator for installation in complex network systems.
Connect your PC / laptop to the router via a network cable or establish a Wi-Fi connection, if supported by the router.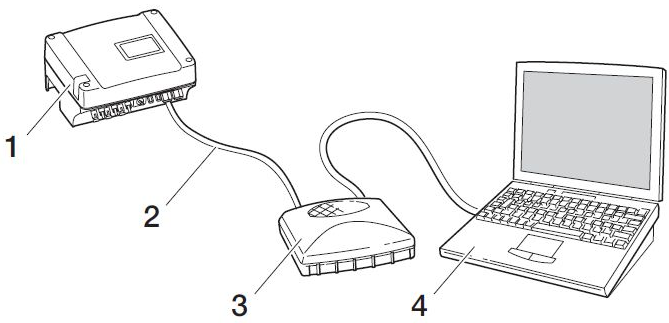 Inverter

Ethernet cable

Router

PC/laptop
Enter the serial number with a prefixing "s" into the address bar of the Internet browser in order to access the inverter's web server (e.g. http://s90353KCM0000K).
Log on to the inverter with the default user name "pvserver" and password "pvwr". The inverter's index page appears after logging on ("info").
Switch over to the configuration page via menu item "settings".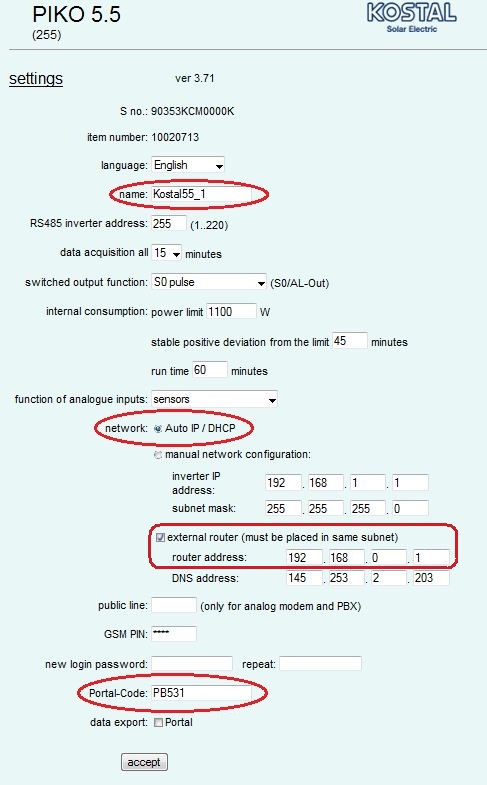 Enter a name for the respective inverter in the "name" field. Do not include spaces in the name.
Ensure that the "network" options "Auto IP / DHCP" and "external router" are selected.
At "router address", enter your router's IP address.
Leave the DNS server address unchanged.
Enter the code "PB531" in the "Portal-Code" field and confirm your entry by clicking the "accept" button.
The name of the Suntrol Solar Portal appears underneath the portal code and the box next to the portal name is activated. Data transfer is now configured.
Enter the words "go online" in the "Portal-Code" field. Confirm your entry by clicking the "accept" button. This causes a test transfer to be started. Insofar as your inverter has already recorded income, the data will be transferred to the Suntrol portal within the next five minutes.
Toggle back to the inverter's index page ("info") and close the Internet browser.
Setup for your inverter is now complete.